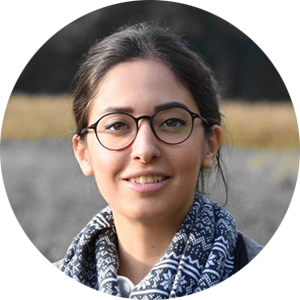 Persian and Classical percussionist and teacher
Roshanak Rafani was born in 1994 in Tehran. She started music with learning Daf at the age of 8. In her adolescence she continued her education in Daf and learned other Persian percussion instruments such as Dayere and Tombak. Beside private musical lessons in theory she started learning classical percussions in Tehran. She also majored in Social Sciences in the University of Tehran at the same time.
Since 2014, Roshanak Rafani has been teaching Daf and Tombak in Iran and she never quit teaching even after moving to Germany. She has been studying classical percussion with Dominic Oelze at the Barenboim-Said Academy in Berlin since 2018.
Artistic Carreer
Her professional career started with a renowned theater in Tehran, in which she was performer of the percussion section. She worked with classical orchestras such as Austro-Iranian Symphonic Orchestra (AISO), Tehran Cultural Orchestra, Nilper Orchestra and also Junge Philharmonie Berlin.
In 2016 Roshanak Rafani founded Tehran Percussion Ensemble with a few of her colleagues and participated in musical festivals in Iran. She has given concerts as a percussionist with different Persian music groups and solo in Iran, Armenia and Germany and accompanied choirs in different music festivals in Turkey, Sri Lanka and Spain.
Throughout her collaboration with different musicians in different genres of music she has gained a great understanding of performance in solo and chamber music. Additionally, being a scholar of classical music in a renowned academy and her varied experience in performance and teaching make her a competent candidate for sharing her knowledge with like-minded enthusiasts.
At the GMA she offers different types of classes, such as rhythm creativity for children, individual and group lessons for Daf and Tombak, beside various workshops about rhythm perception, body percussion and diversity of oriental rhythms.
Vita at GMA
Roshanak Rafani is teacher at the Global Music School since August 2020.