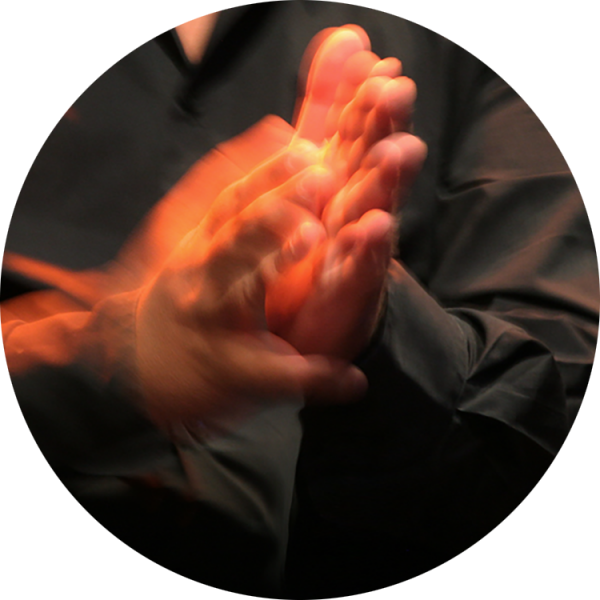 Body Percussion Lessons
The Body Percussion lessons are suitable for musicians, music teachers and rhythm enthusiasts.
The course content is about acquiring theoretical competence in rhythmics and motor skills in its realisation. In the group we will explore rhythmic topics such as:
– binary and ternary microtime
– Counting methods
– Polyrhythm (2 against 3, 3 against 4 etc.)
– Odd meter
– important guidelines and rhythms
– Indian rhythm concepts (Talas)
– Practice and implementation possibilities and concepts are discussed and practiced.
What is Body Percussion?
Rhythm is the common ground of the music of different cultures. Any kind of playing music together requires certain basic rhythmical skills. Since rhythm is something that is best perceived, felt and performed with the whole body, the "first steps" to these basic rhythmic skills must be taken literally, both in learning and teaching. But also clapping, "dancing" and speaking are part of these sensual first rhythmic activities.
Body Percussion is a method of practical learning and attaining rhythmic security. It allows you to explore rhythms without the use of instruments or sheet material. The body is the musical instrument. In Body Percussion, drumming and stomping are performed on or with the body and the mouth is used to speak, sing or snap rhythmically. In this way the overall experience of rhythm (body, feeling, mind and intellect) is encouraged.
Body Percussion is ideal for
– elementary and extended rhythm training,
– experiencing and understanding polyrhythms alone or in a group, thereby expanding the "rhythmic consciousness", and
– stimulating and improving the rhythmic interaction (also often seen as transferred) in the group.
Almost every rhythmically influenced music can be effectively accompanied or imitated with rhythmic Ostinati without any material or instrumental expenditure. Body percussion is also frequently used in various dances and styles such as Flamenco or just Schuhplattler.
This course is especially useful in combination with the course Rhythmic Reading and Writing.