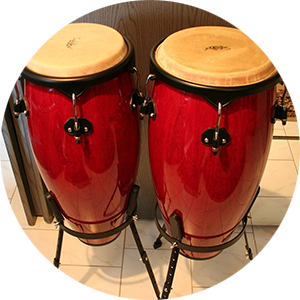 Ensemble Descarga
The ensemble "Descarga" deals with the so-called Cuban jazz and its root, the "descarga". The forms and rhythms of popular and Afro-Cuban musical styles are opened up by influences mainly from Northamerican Jazz. In its origins in the 1950s, the Descarga was characterized by the spontaneity and enthusiasm of the musicians, who founded a whole genre that is still attracting attention around the globe.
The interventions of the musicians determine the direction that takes a piece and vocal parts are welcome, but not essential to play this music. Instrumentalists have the opportunity to improvise over swinging vamps, ostinati and grooves with appropriate harmonic freedom. Of course, a more complex form can also be used, but the basic idea is to fill little structure with as much content as possible.
Pioneering recordings of this genre are e.g. Cachao's Descargas and pieces like "Ritmo Cubano", "Gandinga, Mondongo, Sandunga", "Pa 'gozar" or versions of standards like "Caravan".
Instruments
Possible instruments are: Congas, Bongos, Timbales/Drums, Percussion, Bass, Piano and wind instruments. Depending on the situation, other instruments are welcome ass well.