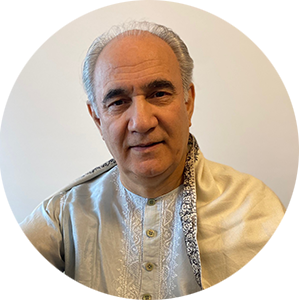 AFGHANIC MUSIC / Folk Semi-Classical / Classical
Heider Kamal was born in Kabul, Afghanistan in 1949 and began making music in his early school years. He learned singing with Ustad Rahimgul in Kabul and studied sitar and singing at the Bhatkandy Music College in India. Heider Kamal has been living in Berlin since the beginning of 1975. There he studied sitar with Pandit Shalil Shankar, a student of Grandmaster Pandit Ravi Shankar.
Besides numerous concerts, Heider Kamal played in Grandmaster Kamalesh Maitra's Ragatala Ensemble, which combines music for Indian and Western instruments.

Vita at the GMA

Heider Kamal teaches harmonium, sitar and afghan classical singing and folk music
at the Global Music School.