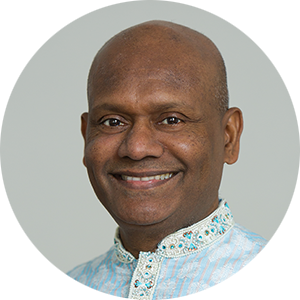 Yogeswaran Manickam is the coordinator for South Asian music and  responsible for the Indian music program of the Global Music School. The program offers children and adults creative courses and interesting instruments from South Asian.
At Global Music School, he teaches Carnatic singsing, Mirdangam, Kanchira and the Indian bamboo flute Venu. Yogeswaran is a trained singer and drummer and inspires music lovers from all over the world with his expressive voice and masterful playing. Through Tamil music he opens up to his audience an ancient living tradition, which still today characterizes the atmosphere of many temples. This music is now firmly established on the concert stage and in the recording studio. He draws inspiration from the beauty of early "Thirukkural" poetry as well as the temple hymns he grew up with.
Contemporary compositions, media productions, and a special kind of educational outreach provide unlimited scope for his versatile talents. In addition to his role as coordinator and teacher at the Global Music School, Yogeswaran is involved in international peace work.