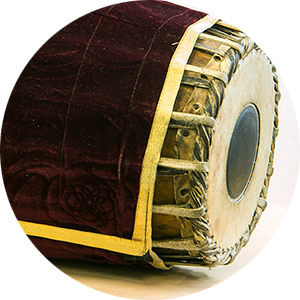 Mridangam lessons (South Indian Classical percussion)
Mridangam is a double-sided barrel shaped drum from South India. In this course participants are introduced to the rhythms of Carnatic music (classical music of South India). They are taught the unique rhythmic language called "Solkattu" which depicts the sounds of the drum. The technique using spoken syllables is called "Konnakkol". Indian musicians have been using various kinds of rhythmic solmization for many centuries as an aid to memory and to teach.
The courses are focus on rhythm (Laya) and the rhythmic circles (Tala), devised for the beginners to the advanced students in groups as well as for individual learners. Examinations taken place each year and all students are invited to take part in the exams. Successful participants are awarded a certificate from the Global Music Academy.
"We are irresistibly attracted by rhythm from a very early age, whatever our musical aptitude or background may be. The pulse of time (kala) underlying music and movements of dance makes us feel the invisible beauty, which pervades the entire universe". (Ludwig Pesch – Eloquent Percussion)
Learn more about the instrument
The two-headed Mridangam is one of the principle percussion instruments in South Indian music. For centuries it has served as the rhythmic foundation for vocal, instrumental and dance ensembles. This instrument owes its great popularity to the multitude of different tones and timbres, which it can generate through different finger techniques.