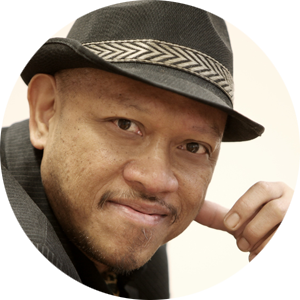 Piano and E-piano teacher
Lito Tabora was born in Quezon City, the largest city in the Philippines. He studied with his father Raul Tabora, an arranger and composer. Then his family moved to Hong Kong. There, at the age of 16, Lito began to build his reputation as a versatile pianist and studio musician. In the early 1980s, he traveled throughout Europe and decided to pursue his career as a musician further in Amsterdam. Today he lives and works in Berlin.
Artistic career
Lito toured with Percy Sledge, George McCrae, Uwe Gehring, The Drifters, The Flirtations and the Platters. In 1987 he moved to Berlin. Since then he has worked with artists such as Paquito d'Riviera, Claudio Roditi, Jacaré, Eddie Harris, Hendrik Meurkens, Jack Walrath, Benny Bailey, Dave Conant, the Fremont Philharmonic and Guitar Crusher. From 1996 to 2005 he taught piano at the Hanns Eisler Academy of Music.
His 1999 CD "Understanding" represented an important point in his career and reflects the diversity of his musical influences from jazz to Cuban, Brazilian and African music. He is a frequent guest of the Du Cannivouex Theatre Troupe and has appeared on stage with artists such as Tom Noddy, The Flying Karamazov Brothers, Tuan Le, Hacky Ginda, Bert Rex, Kurt Krömer, Sammy Tavalis and Oropax.
Vita an der GMA
As part of the Global Music Pilot Campus 2010, Lito Tabora taught piano and keyboard in Dar Es Salaam. At the Global Music School in Berlin, he has already been involved in a wide range of activities: Besides individual or group lessons, Lito also teaches harmony, repetition and electric guitar.
Motivation
"Music is my passion. I'm here mainly because I want to pass something on: the tradition of the piano, the teaching of harmony, and the art of improvisation."