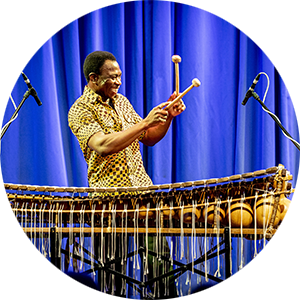 Balafonist and Balafon Teacher
Aly Keïta was born in Abidjan, Ivory Coast. He started learning the instrument at a young age from his father, who was himself a Balafon player. Aly grew up in a Griot family. The Griots are professional musicians and singers where the traditional skills of performing instruments like Djembe, Kora and Balafon are passed on from generation to generation. After studying with his father, Aly continued his studies on the traditional pentatonic Balafon with the brothers Zouratié and Daka Coulibaly.
Aly began building his own Balafons at an early age. This Balafon is a work of art, and he worked hard to perfect the tuning of his instruments and to give them an unmistakable sound. He also customised the construction of connecting cords and keys and carefully selected different sizes of gourd resonators to give his Balafons their unique sound.
In 1986 Aly met the pianist Georges Makinto, who introduced him to jazz and encouraged him to play modern music as well. Aly then developed and adapted his own diatonic Balafon, which opened up new possibilities for him in many different musical styles and repertoires.
As a result of his extensive experience and versatility, Aly has had the opportunity to play on many occasions in Africa, Europe, the United States, Asia and Australia. He is regarded as one of the virtuosos on the instrument and is an ambassador for the Balafon. Throughout his career he has continued to develop and adapt his playing style to other musical languages, which allows him to play at international concerts and music meetings. He has performed with musical legends such as Pharoah Sanders, Paolo Fresu, Rhoda Scott, Omar Sosa, Joe Zawinul Syndicats, Étienne M'Bappé, Linley Marthe, Mathew Garisson, Paco Séry, Karim Ziad, Arto Tuncboyaciyan, Trilok Gurtu & Jan Garbarek, Dr. L. Subramaniam, Majid Bekkas, Cheik Tidiane Seck, Hans Lüdemann, Rokia Traoré, Tiken Jah Fakoly, Amadou & Mariam, Habib Koité, Toumani Diabate, Ballaké Sissoko and many more.
In 1989 and 1995, the Centre de Formation et de Promotion Musicales (CFPM) Niamey (Niger) commissioned Aly to lead a series of workshops for training in traditional and modern music. He has also taught at the Institut National et Supérieur des Arts et de l'Action Culturelle (INSAAC) in Abidjan, Côte d'Ivoire. In 2009 he developed a teaching manual to introduce the pentatonic Balafon to a wider audience together with Gert Kilian and Philippe Nasse.
Aly has gained a worldwide reputation for his playing skills on the Balafon, the traditional instrument of the Griots in West Africa. However, his success is based on his ability to use this ancient instrument in a modern context rather than as a traditional Griot. Although deeply rooted in the tradition, Aly has chosen a different path to most of the popular Balafonists of West Africa characterized by his Afro-Fusion repertoire, which lives from funk rhythms and his preference for complex, jazz-oriented arrangements.
An encounter with Aly Keïta is always a great opportunity to discover what passion for music is all about. When he speaks or plays music, Aly inspires his entire environment with his enthusiasm. With a smile on his face and a dreamy glow in his eyes, he shares his joy of life and his energy with everyone.
Motivation
"I want my music to be vibrant and energetic, full of hope and love, a music that I can share with the audience and through which the audience and I can share our joy.
I am very happy to announce a new chapter of great challenges now in Berlin, my wonderful city, where I have been living with much creativity and success for many years. I am very pleased to tell you that I will be teaching Balafon at the Global Music Academy for all ages from six years onwards".
Vita bei der GMA
From January 2021 Aly Keïta will give Balafon lessons at the Global Music School.