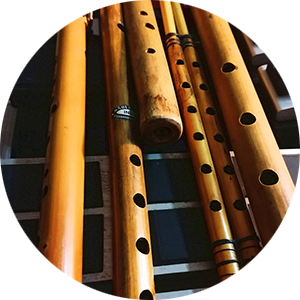 Andean wind instruments lessons – Quena, Sikus, Mohzeños
Mauricio is an award-winning educator with over 20 years of teaching experience. He is passionate about encouraging music-lovers to develop their own unique style and original way of playing and learning. In his 'Andean wind instruments lesson' he teaches students interested in developing their skills on keyless flutes. These can be quenas, sikus and other traditional wind instruments. Students will be guided through a personalised musical development strategy, tailored to the strengths and ideas of each individual. This provides them with the techniques to play, improvise and even compose music using their instrument. Using his experience as an innovator he can help students to adapt their playing to perform in different styles and to create original music and sounds.
For those interested in learning traditional and modern techniques Mauricio will create a tailored course for each student according to their level and musical ideas. The Andean wind instruments lessons with Quena, Sikus and Mohzeños can be taken as a one-on-one lesson or as group lesson.
Composition & Improvisation for keyless flutes and wind instruments
The art of composing is often presented as the last stage in the journey of an advanced musician. But in fact it is an integral part of all levels of musicianship that can be started at any stage of development.
Mauricio's approach is to work with the strength of the ideas of each student. This allows them to carve their own ideas into project-based sessions where students work towards a composition and/or a performance. Mauricio teaches improvisation frameworks that can be used for different styles of music. Furthermore he uses these techniques as a starting point for what he calls "instant composition".
Mauricio's own musical development, as well as his teaching method, are founded upon the principle that engaging with your own creativity is the most empowering, effective and enjoyable way to learn an instrument. Therefore improvisation and composition are foundational skills for every player, from absolute beginner to advanced professional.
For advanced students Mauricio also offers the possibility of a masterclass format.
Pan-Andean Music ensemble
In this weekly session Mauricio will develop modern and traditional Andean pieces alongside new compositions through an ensemble including Andean wind instruments, charango (small 10-string nylon Andean guitar) and Andean percussion.
This group session welcomes all levels of musicianship.
Learn more about the instruments
There are three important families of wind instruments that are a fundamental part of the Andean music diaspora: The Quenas, Sikus and Mohzeños. These instruments have a rich history dating back up to 5000 years, in the case of the quenas.