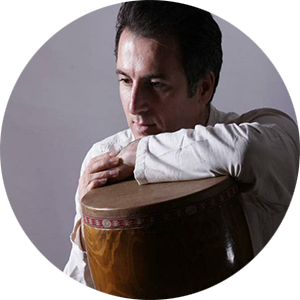 Composer, musician, music teacher and researcher
Yaser Bayat is a composer, musician, music teacher and researcher from Iran. He graduated with a master's degree from Tehran University of Fine Arts ( finearts.ut.ac.ir), ranking second among elite students. He plays various Iranian musical instruments including kamanche, setar, tanbur, santur, tonbak, daf and other percussion instruments. He was a lecturer at Tehran University of Fine Arts for several years as well as at the University of Applied Sciences. He was also active in various music schools. His notable teachers included Mohammad Reza Lotfi, Dariush Tala-i, Dariush Pirniakan, Akbar Shekarchi and Bahman Radjabi.
Mr. Bayat was a member of various musical groups such as Shahnazi and cheheldaf.  As a composer and musician, he has participated in more than 60 theatrical performances. Yaser Bayat is a two-time laureate of two music festivals and has had music performances in Poland, Armenia, Italy, Qatar and other countries. He was the leader and composer of the music group "Sarb-e Awa" with performances in Iran and Indonesia.
Mr. Bayat has also published several articles in the field of ethnomusicology as well as rhythm in Middle Eastern music especially on different regions of Iran including.
– Studies on Kamanche Techniques of Luristani Music
– Contributions to Turkmen music
– Iranian music in theatrical performances
The books written by him are :
– Darband
– Tonbak and Chemeye khorushane Rhythms (Percussion and rushing sources of musical rhythms).
He cooperated as a composer and musician in production of and performances in various cultural programs with public television station as well as cultural radio in Iran. Some of the most famous programs are as follows:
Participation in several live concert programs in various television programs.
Production of the video clip Sound of Spring Days and Chalice of Love ( Baharan and Jame Eshgh)
Musical appearance in the television series " Hamagonah" (fellow sinners)
Interview with Neyestan – program on cultural radio station
Participation in the release of the music album "Mast-o Hushyar" (Watchful Drunkard), with the composition of Dariush Pirniakan.
Mr. Bayat has been a member of Iran Music House since 2005 and a member of Iran Theater House since 2006. He founded the music school "Del Kuk" in 2018. He was the head of the music department from 2015 to 2020.
Mr. Bayat has been involved in hundreds of concerts as a composer, music director and musician. He is a professional passionate music teacher who provides advice and support to his students.