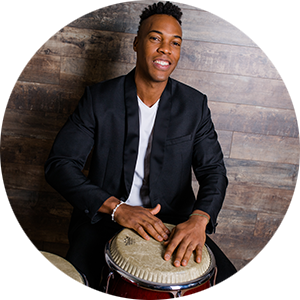 Percussionist and teacher for Cuban percussion
Alexander Scull Castillo was born in 1989 in Havana, Cuba. The Afro-Cuban religion, tradition and history were handed down to him in his family. He carries the rhythms, music, dances and culture of his country in his blood.
As a child he started taking music lessons in "casa de cultura", which made him discover his passion for rhythmic instruments at an early age. He quickly played percussion in children's music groups (congas, snare drum) and passed the entrance examination for the humanistic-musical high school "Escuela de Instructores de Arte Eduardo García Delgado (EIA)" to learn percussion instruments (timbales, conga, bongo, güiro, clave, maracas, cencerro) and basics for piano, guitar and double bass. At the same time, he was taught harmony, tone and music theory and aural training there, and after the lessons he played timbales in the representative music group of his school. Already during this time he received master classes from celebrities such as Federico Arístides Soto Alejo "Tata Güines" (conga), Juan Carlos Rojas Castro "El Peje" (timbales, drums) and Tomás Ramos "El Panga" (conga, timbales). After graduating from school, he himself began to teach music with a focus on percussion at this school for over 8 years.
At the same time, his talent and diligence were rewarded with admission to the University "Universidad de Ciencias Pedagógicas Enrice José Varona" in Havana, where he successfully graduated with a degree in pedagogy and art with specialization in music. In addition, he learned to play the batá for religious purposes, which is used especially for Afro-Cuban dances. His path as a percussionist quickly led him to the most recognized groups in Cuba. Since summer 2019, Alexander lives in Berlin and works as a freelance percussionist and music teacher.
Musical career
Alexander played conga with the group "Estrellas Cubanas" and bongo with "Estrellas Classicas del Son". As a drummer and timbales player he started collaboration with the "Steel Band Habana", whose musical director and tenor steelpan player he later became. He was a drummer in the TV Orchestra of the Cuban Television and in the band of the Cuban pop star Patricio Amaro. Since summer 2019, he has been playing in several Berlin bands, preferably Latin American music.
Vita at the GMA
Alexander teaches Bongo, Cajón, Conga, Latin Drums and Timbales at the Global Music School since June 2020.
Motivation
"It is with great pleasure that I would like to pass on my knowledge and passion for Cuban music to those people who are interested in the history, culture and the complex rhythms of the instruments of my home country."