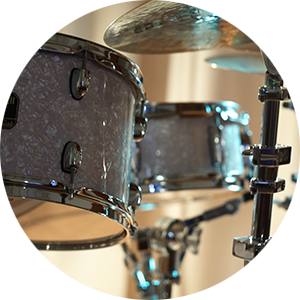 Latin Drums Lessons
Lessons with Alexander
The drum lessons with Alexander offers are designed as individual lessons and deal with the different rhythms of Cuban music, such as Bolero, Pilon, Cha Cha Cha, Salsa, etc. I offer all levels for musicians interested in Latin Drums, i.e. from beginners to professionals.
Lessons with Diego
In the Latin Drums lessons with Diego you will learn step by step your own rhythmic language with the focus on playing musically independent. The lessons provide basic exercises for free and independent polyrhythmic playing. You will receive an introduction to modern Latin Jazz Drums, based on a unique polyrhythmic teaching method. The lessons are suitable for advanced players and professional muse drumsicians. You will get to know different patterns, hand and stick techniques, as well as other percussion instruments and their adaptation to the drums.
Polyrhythmus Ensemble, "the modern way of Latin drumming"
Polyrhythmics refers to the overlapping of several different rhythms in a polyphonic music piece. Each individual voice can also have its own bar or even its own meter (polymetric). Diego Pinera will work with the ensemble on this overlap step by step, using simple patterns. Simple rhythms/patterns can be shifted by certain note values (time shifting) and distributed among the different instruments, so that several levels run "against each other". Starting with individual exercises, such as various groupings of 16th notes, 5toles etc., these are then incorporated step by step into the ensemble play. The playing of different time signatures is also part of the course curriculum. The participants not only learn more rhythmic security, but also develop an awareness of how different levels of rhythm are composed.
Every participant should feel confident on his instrument so that full concentration can be given to exercises and ensemble playing. Basic knowledge of music theory about rhythm and harmony is required. Basic music reading skills are an advantage.