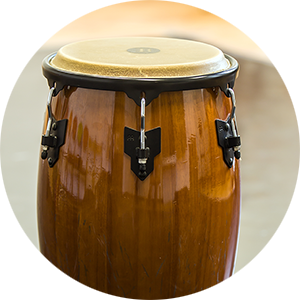 Conga Lessons
Lessons with Alexander
Conga lessons with Alexander are available for all learner levels, from beginners to professionals and are available as individual or group lessons. Together we'll discover the different genres of Cuban music with this instrument, e.g. Rumba (Guaguanco, Yambú, Columbia), Palo, Abakua, Bolero, Danzon, Cha Cha Cha, Pilon, Mozambique, Mambo, Charanga and Son. In the lessons you will learn the correct position of the instrument, different playing techniques, tone shaping, rhythm and playing vocabulary. I will also introduce you to the history of music and the most important musical representatives of this instrument and its genres. I respond individually to your wishes, needs and questions and adapt my lessons exactly to my students. Accordingly, the division of the lesson content into pure Afro rhythms and popular rhythms such as Cha Cha Cha, Son, Bolero, Pilon, Mambo etc. is possible, if you are especially interested in a specific genre. With much joy of playing we will gradually develop your own repertoire and ideas.
Lessons with Robby
The conga lessons with Robby are suitable for beginners, advanced and professional musicians. Students are taught the basic techniques and basic rhythms, as well as the history of conga and its various styles. The content of the lessons is individually adapted to the student's wishes and an exercise plan is developed together. Pupils and teachers study tone shaping, learn the appropriate techniques and develop their own "playing vocabulary". Robby responds individually to the needs and questions of his students and supports you in building your repertoire. Always with the intention to develop an independence of the instrument.
Learn more about the instrument
Congas have their origin in the cone-shaped macuta drums from Central Africa, which found their way to Cuba via the slave trade. Today's congas are divided into the sizes quinto, conga and tumbadora. Originally the drums were played by the congeros individually. The quinto is characterized by its small head and its high pitch. It was primarily used to play the melody and accents. The conga is the most versatile of the three and originally represented the middle voice. Nowadays it is also used as high and low voice. It is also known under the name Secundo. The Tumbadora, also called Tumba or Salidor, is the lowest of the three drums.
In the course of time a variety of different techniques developed and people began to play two or more drums at the same time. When the wave of Latin music swept over the USA in the 1950s, the congas became known to a wider public. The term probably goes back to the rhythm La Conga, which was played during the carnival period. The drums used for this are known as Tambores de Conga.