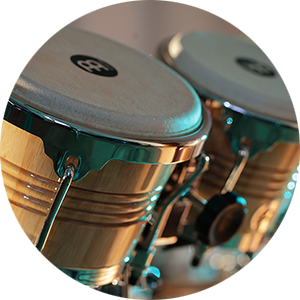 Bongo Lessons
Lessons with Alexander
Bongo lessons with Alexander are aimed at all musicians, from beginners to professionals and are available as individual or group lessons. Since the bongos are an accompanying instrument, playing skills for other Cuban accompanying instruments in different genres are taught at the same time, i.e. maracas, güiro, clave, cencerro and chequere with their rhythmic patterns. With these instruments, we discover the different genres of Cuban music together, e.g. Rumba (Guaguanco, Yambú, Columbia), Palo, Bolero, Danzon, Cha Cha Cha, Pilon, Mosambique, Mambo and Son. In addition to rhythm and playing vocabulary, I also teach you important basics of music history and knowledge about the musical representatives of these instruments and their genres. With much joy of playing we will gradually develop your own repertoire and ideas.
Lessons with Robby
Bongo lessons with Robby are thematically open and available for all levels. From beginners to professional musicians. The content is adapted individually and exercise plans are developed together. Emphasis is placed on tone shaping, teaching the appropriate techniques and learning and developing a "vocabulary". In addition, the history of the instrument, its rhythms, styles and important representatives are taught. Wishes, needs and questions of the students are considered individually, always with the intention to develop a repertoire and a certain independence on the instrument.
Learn more about the instrument
Small finger and hand drums of Cuban origin were the first drums used in the Cuban "Son", the "Father of Salsa". When later in the "Conjuntos" the congas found their way into Cuban popular music, a "commenting", soloistic way of playing on the highly tuned bongos was established. The bongocero plays a leading role in the rhythm section, also by playing the "cencerro" (cowbell).