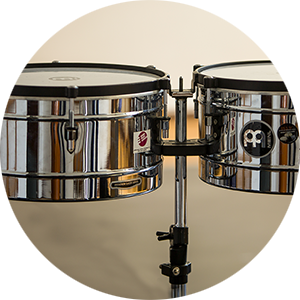 Timbales lessons
Lessons with Alexander
Timbales lessons with Alexander are available for all levels, from beginners to professionals. Together we'll discover the different genres of Cuban music with this instrument, e.g. Bolero, Danzon, Cha Cha Cha, Pilon, Mozambique, Mambo, Charanga and Son. In addition to playing techniques and vocabulary, we also deal with styles, rhythm and music history including the most important representatives of each genre. I respond individually to your wishes, needs and questions and adapt my lessons exactly to my students. With much joy of playing we will gradually develop your own repertoire and ideas. Both individual and group lessons are possible.
Lessons with Robby
Robby Geerken teaches you playing techniques, tone shaping and accompanies you in developing an independent playing vocabulary. He addresses the wishes, needs and questions of the students individually. The content of the lessons will be individually adapted to each student and together you will work out an exercise plan. You will also learn a lot about the history of the timbales, their rhythms and styles. The aim of the Timbales lessons is to build up your own repertoire with joy of playing.
Learn more about the instrument
The Timbales, in Cuba mainly called 'paila', bare their international name due to their origin – the timpani. The kettledrum players of Cuban orchestras started to turn their mallets and play with the thin wooden side, thus creating the unique metallic sound of the timbales. Over time the shells became smaller and the timbaleros developed their own way of playing. Similar to an orchestra drummer, the timbalero leads the musicians through the arrangement. Internationally the timbales have also become famous for their use in reggae.