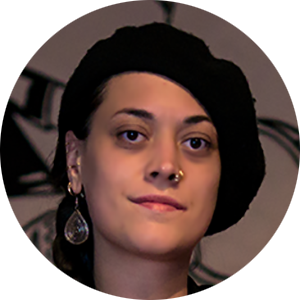 Clarinetist and Arranger
Laura de la Riva is a clarinetist and arranger. She was born in Cologne and lives in Berlin since 2010. Laura studies musicology and European ethnology. Her focus of study is Eastern Europe music. She made several trips throughout the Balkan area, where she came in touch with different musicians and teachers. Laura practiced next to her main instrument, the clarinet, also the saxophone and kaval and studied different kinds of traditional repertoires.
Artistic Career
Since her childhood Laura is fascinated by music and already in school she focused on music as a main course. After her A-levels Laura began her studies in musicology in Berlin. One priority in her studies are the meaning of music for the intercultural understanding and the social creation of identity through music making and listening to music.
Next to her studies Laura participated in several workshops and festivals in Germany, Macedonia, Bulgaria and Turkey, such as:
Yiddish Summer Weimar, Igor Dimovskis Music Academy Skopje, Folklore-Ensemble at the faculty for musicology at Universität Köln with Henner Diederich, OMA Improv Project Berlin, Klezmerwelten, Ashkenaz Project, KlezWest, MAQAM Festival Weimar, Megjunaroden Folkloren Festival Goce Markoski Skopje, Darbuka Ofis Istanbul with Raquy Danziger a.m.m.
In 2017 she founded the ensemble "Proekt Iljada" together with the accordionist Robert Angelovksi in Skopje. The ensemble works on a fusion of traditional Macedonian repertoire with modern sounds from jazz and rock music. In 2018 this work resulted in a double album called "Eksperiment", which was presented on the MainWeltmusik Festival in Offenbach (near Frankfurt Main).
Motivation
Through music people can immediately engage in an intense connection to each other, independently from their cultural or social background. This potential can show people, especially youngsters, how to handle and act constructively and conflict-free with others. In my opinion it is very important for a multicultural city like Berlin.
The Global Music School provides a valuable contribution to make intercultural and musical competences accessible. It provides a chance to reach a major change in society towards inclusion and integration.
Vita at the GMA
Laura de la Riva is teaching since 2019 at the Global Music School.