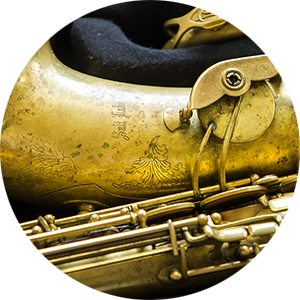 Saxophone lessons
You want to learn how to play the saxophone, awesome.
Or maybe you already play it and you just want to get better at it, that's great. Our experienced teachers offer saxophone lessons to all types of students. Children and adults are welcome at any skill level, from total beginners, to advanced players.
Alto, Tenor, Soprano or Baritone sax.
If you are a beginner, you will learn the art of saxophone playing starting from how to effectively breathe and control your body to produce sound and express your personality through the instrument.
If you are an intermediate or advanced player, the lessons will focus on what really matters to become a pro. You'll learn real-world techniques that will significantly improve your skills and take your playing to the next level.
Regardless of your current knowledge about the saxophone, with the tips and tricks from a passionate and experienced teacher you are guaranteed to fall in love with the instrument and the learning process.
About the instrument
The saxophone is a relatively new and modern instrument. It was invented by the Belgian instrument maker Adolphe Sax in the 1840s.
Although it is made of brass, it is part of the woodwind family, because it uses a wooden reed to produce sound by vibrating the air (wood-wind).
The saxophone is in the spotlight of many styles of music such as Soul, R'nB, Funk, Pop, and of course, all types of jazz, traditional or modern.
Modern day saxophonists are continuing the legacy of great players of the past such as Coleman Hawkins, Lester Young, Charlie Parker, Sonny Rollins, John Coltrane, Stan Getz, Paul Desmond, Dexter Gordon, Michael Brecker and many-many others.
Following in the footsteps of these giants are today's Joshua Redman, Branford Marsalis, Chris Potter, David Sanborn, Candy Dulfer, Mindy Abair, Eric Marienthal, Mark Turner, Joe Lovano, Ben Wendel, Bob Reynolds…
All fantastic musicians, definitely worth a listen!